【Twitter GIVEAWAY Campaign】『DEAD ROCK』Win the Acrylic Stand!!!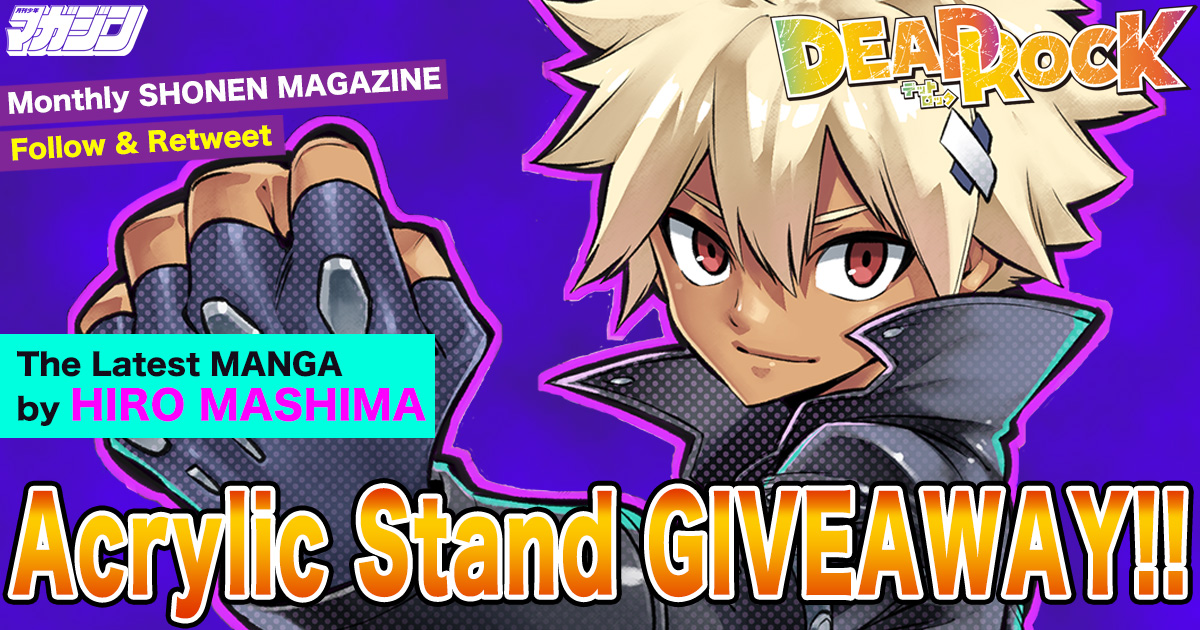 【Twitter GIVEAWAY Campaign】Win the Acrylic Stand!!!
New MANGA by HIRO MASHIMA "DEAD ROCK"
Launches the GIVEAWAY campaign of "DEAD ROCK" the latest MANGA by HIRO MASHIMA!
To enter this campaign, follow our official twitter account (@getsumaga) and retweet the campaign post which includes 2 hashtags #GETSUMAGA and #DEADROCK.
From all those who applied, 3 people chosen by lottery will receive a prize, the acrylic stand!!
Application requirements
【Application period】
Monday, July 3rd, 2023 to Sunday, July 9th, 23:59
【prize】
"DEAD ROCK" Acrylic Stand
【Application method】
STEP1
Follow the official account of Monthly Shonen Magazine(GETSUMAGA)
Winners will be contacted via Twitter direct message (DM), so be sure to follow the official account "@getsumaga".
"Monthly Shonen Magazine(GETSUMAGA)" Official Account
STEP2
Retweet campaign post.
STEP3
Receive winning results via DM.
After the application deadline, the winners will be contacted by DM after a fair and strict lottery.
【Application Terms】
In this campaign, those who follow the "@getsumaga" account and tweets that meet the conditions will be considered as applicants and will be deemed to have agreed to this agreement.
Only one prize will be shipped to the same address.
If we cannot send you the DM due to having your account deleted or being unfollowed by you, and if you do not reply by the deadline after contacting the winner by DM, your right to win will be invalidated.
Prizes for this promotion are subject to change without notice.
Personal information (name, address, phone number, etc.) received from winners shall be handled in accordance with the personal information protection policy separately established by the Company.
We may outsource the handling of your personal information to subcontractors. (Except when disclosure is required by law, etc., we will not disclose or present personal information to third parties other than subcontractors without the consent of the customer.)

【Notes】
1. We cannot answer questions about how to operate Twitter. Please note.
2. Only Twitter accounts and tweets that meet the conditions can apply for this campaign.
3. The winning prize cannot be resold or transferred.
4. We cannot answer inquiries regarding the lottery results. The announcement of the winner will be returned with the shipment of the product.
5. If you apply using Twitter, we will contact the winners using DM, but we will pay close attention to the contents and responses of customers. We will not ask for personal information directly via DM. Please be careful not to leak personal information on your Twitter timeline, either intentionally or unintentionally.
6. We do not guarantee any damages caused by the use of the written contents of the customer by a third party or damages suffered by the customer.
7. Participation in this campaign is limited to one account per person.

---